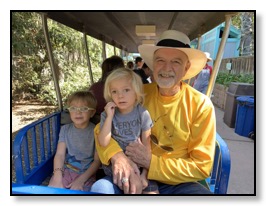 Will Arrow and Tiger get to ride on 'The Blue Train'? How does Clear Choice Window Washing prove that they are clearly the wrong choice? (Especially for window washing.) Does the automatic iPhone update cause problems? Oops — too easy. How many ways does the automatic iPhone update cause problems? Who can surf down an Astroturf covered hill? Why did ATT block Dan's phone? Hint: Dan stopped using ATT services several years ago — is it possible that a (gasp!) scam was involved.
Read More...
How many birthday celebrations will Dan be able to wrangle? What could Dan do that half of a horse (power) machine was unable to accomplish? Who invited Vanessa Williams to Dan's birthday dinner? Did they tell Vanessa? Did Nazy know who Vanessa Williams is? How did Dan and Nazy escape attention from the paparazzi at the IVY in West Hollywood? Did Marilyn crash the party? Who helped celebrate with a great party in Santa Barbara? And what about that Rolls Royce?
Read More...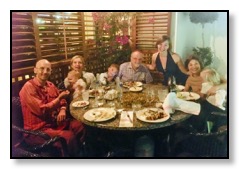 Who is into consuming literature? Hint: It's a one-year old. Is she able to digest the concepts and hidden meanings associated with Unicorns? Who vetoed the 'fire table' celebration at Zaytoon Restaurant in Santa Barbara? Who got a gold star on his birthday cake? (Hint: It was my birthday cake.) Did Darius, Christiane and the young girls make it back home safely. More importantly did they arrive with aligned sleeping schedules. (I bet those with parental experience can guess the answer.)
Read More...