06-09-16 07:42


Would you keep a bottle of Chateau
LAFITE
(2000) in your storage for 16 years? Would the wine be drinkable after the storage in the wine attic? Where can you find a piece of
Mars
encased in plastic? (And what do you do with it?) Who and how were Melika and Nazy's iPhone both submerged? Which one of them handled the 'baptism' with more aplomb? And: How did The Martin Family look in 1983?
Read More...
28-08-16 13:48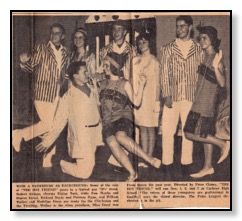 Who decided to empty
THE STORAGE(in Melika's driveway)? What company built the first App Store, called SofStore, (before the internet and apps existed)? What should be done with an international collection of Monopoly games (from every European country)? What are the overdue charges on a Blockbuster 1 week rental initialed in 1995? Who was 'a' boyfriend in The Boyfriend during High School? Why did Le Grand Hotel Inter-Continental (Paris) deliver "such disappointing news" to Mitra? (Hint: It had something to do with pink stuffed elephants.) Would you like to enjoy the beautiful smile of six week old Arrow? (By the way, I am at the left, with a striped coat and a leg up.)
Read More...