magic calendars morph birthdays into wedding day
The week began with childlike innocence and predictability. Nazy and I went walking though the nearby Douglas Preserve where we admired the picturesque fog wafting in from the Pacific Ocean. (I think it was the ocean, but because of the fog and the smoke, I couldn't actually see it.) In short, it was a day like all recent 'days' … Nazy and I were starring in a Twilight Zone episode involving a time warp that trapped us in March 2020. And then: time itself accelerated (in both directions)



on June 13, 2014 6/13/14 Tiger was born
on July 15, 2016 7/15/16 Arrow was born
on August 17, 2018 8/17/18 Azelle was born

and September 19, 2020 9/19/20 something should happen!

Flashback, late July 1972


"You want to preserve and store your wedding dress?" I asked? "Are you planning on wearing it again? To a ball or.."

"Maybe our daughters will want to wear.."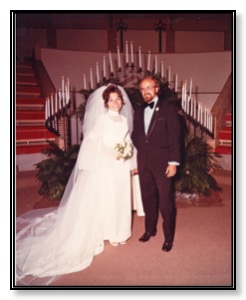 "We don't have any daughters…"

"Yet." Nazy concluded.

"Maybe it won't fit a daughter. Not many people weigh only 100 pounds."

"
99 pounds
, Dan." Nazy corrected.


End Flashback


The dress was professionally preserved and stored — in Atlanta, Memphis, Vancouver, Houston, Hanover, The Hague, Zurich and Santa Barbara. It was moved, jostled and squished — but never forgotten. But (far from random) number sequences were tumbling into place.

A quick look at Melika made it clear that no new baby was in the works for the next number in the Adams Family Sequence… 9/19/20. But…

"Didn't you store your weeding dress, Mom?" Melika asked.

"Do you mean my wedding dress?"
"Yes."

"It's stored in your attic:" Nazy replied.

"I wonder how it looks." Melika asked, nonchalantly, [It looked great.]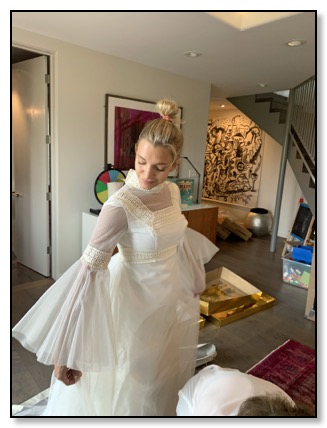 In fact, Melika and Tom had talked to us about renewing their vows on this special day. The original plan, revised as a result of Covid, envisioned Tom's Dad, Judge Adams, officiating an event that involved elephants, Cirque du Soleil, the Ohio State Marching Band and Lady Gaga. (The Pacific Ocean would be drained to create a large dance floor.) The new plan retained only The Judge.

A (very)
small
family gathering was planned for
San Ysidro Ranch
. Nazy and I would join with The Judge, Tom, Melika, Tiger, Arrow and Azelle. There would be a photographer and a video technician. At the last minute, it became possible for Mitra to join the party and she drove up from Los Angeles.

Readers may wonder if there was any particular reason, other than the date, for vow renewal. In fact, there was: Tom and Melika had always wanted Judge Adams to officiate. However, when he wasn't nearby for their initial, spontaneous and somewhat unconventional wedding in Las Vegas, they had been forced into a back up plan that involved Elvis, roller skates and a drive-though.

"So we wanted something more traditional this time, Dad." Melika explained.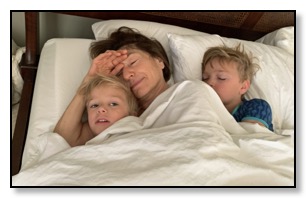 "Good idea," I replied. "I
'm not sure how traditional it is to have your three youngsters at your wedding
," I thought.

Nazy and I stayed with the local grandchildren on Friday the 19th while Tom and Melika went to the San Ysidro Ranch to prepare. Since Azelle had spent most of the three previous nights awake, we were not sanguine about our prospects for a good night's sleep. However, Azelle cooperated (she was the
last
one to wake up.) Tiger and Arrow joined us in our own bed. I think that Arrow was sleeping less soundly than Nazy and Tiger.

You may also notice that Tiger's hair is not quite 'wedding ready'. Arrow's hair was even more challenging, but Melika had arranged for heavy equipment at the resort.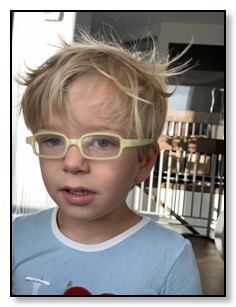 We were waiting at Melika and Tom's house on Nirvana Road to sign for the surprise ring that Tom had ordered for the ceremony. Tom was very concerned that we'd miss the doorbell and 'if you're not there, they won't bring it back'.

We were there. They weren't. FedEx was not delivering.

"
I wonder if they poached Louis De Joy and his management team from the Post Office
," I thought as we waited.

FedEx finally offered to deliver the wedding ring the Monday
after the wedding,
but Tom managed to find an actual person who facilitated a workaround. The ring arrived on time.

Azelle fell asleep on the drive to San Ysidro Ranch, so I simply held her in my lap in our cottage while Nazy, Tiger and Arrow joined Tom and Melika getting their hair done. Then, while Nazy was getting dressed, I helped the boys get into their wedding outfits. They looked good.


At Melika and Tom's cottage, Melika was wearing Nazy's wedding dress and the wedding photographer had good light and a good idea. Nobody had anticipated Tiger's response…

"But I have to be in every picture!" Tiger asserted in a voice that shattered glass, frightened livestock and made it difficult to come up with an agreeable compromise.

"In a wedding, Tiger, there is always a picture of the bride by herself." I explained.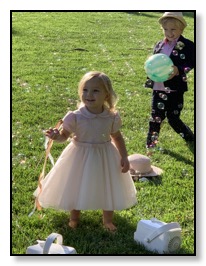 "I have to be in
every
picture!" Tiger responded predictably.

I was ready with a quick, but pointless retort: "You are not the bride, Tiger."

Mitra, Nazy, Arrow and I headed to the hilltop venue while Tom and Melika discussed the matter with Tiger. Unsurprisingly, it was a beautiful day. (We were in Santa Barbara.)

"I
t was 95℉ and sunny on the day Nazy and I were married in Atlanta,
" I thought.

When Tom and Melika arrived, things began rolling. Mitra helped by engaging with the children. Melika and Tom, prepared for most eventualities had a bubble machine and half-time apple juice. As the ceremony progressed, Tiger inserted himself into every possible photograph.



Tom and Melika wrote their own vows, which they shared, and Tom's Dad performed the ceremony. the Judge and I each spoke a bit about our respective children who had the lead roles in the production. Tom sang The Adams Family song verses for each child. Melika and Tom had also commissioned a painting to mark the occasion; each participant added their handprint to the artwork.

It was a beautiful, poignant, touching and emotionally fulfilling ceremony. We were also really happy that Mitra had been able to come (It was her first excursion outside of Los Angeles since the pandemic.) We wished that Darius and his family lived closer.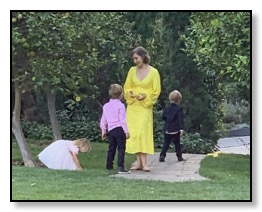 After the ceremony, as is traditional, the bridal party posed for a few photos before dinner. Tiger was…

"..not another picture,." He complained.

"But they want you in this picture," I explained.

"I don't want any more pictures."

"Then a wedding is not the right place to be."

Additional updates on the event in the next issue of The Weekly Letter.


For last week's letter, please click here


The Post-wedding Photo