your call to remote ipadded schools is important — current wait time…
Amazingly the fall semester of "school" is starting in Santa Barbara. I've put the quote marks around the word "school", because it's not a normal start to the…

"… It's the 'new normal', Dan." Nazy interrupts.

As usual, Nazy is right. I'm not sure if we'll ever get back to what was normal, but…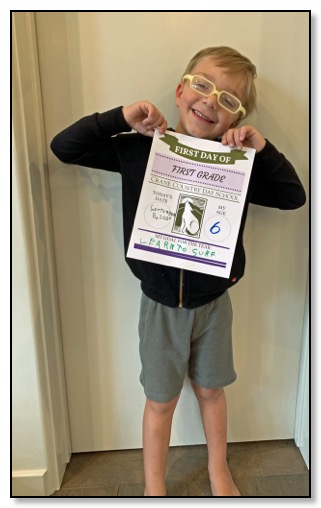 "The first step, Nazy," I explained, "Is to get
a
new,
I mean, a
real
President."

"That's.."

"We need a President who is a normal human being."

"You're right, Dan." Nazy replied. "
Right now, I'd settle for one who was an actual human being
." Nazy thought.

Tiger, entering first grade, will be attending school in a virtual sense. Because the school spent the summer preparing, they have new applications and new skills. Tiger has his own iPad and he appears to enjoy attending his classes with the device. The photo at the right marks his first day of First Grade. His goal for the year is 'Learn to Surf".

in addition to using the iPad for school, Tiger has a lot of apps that he enjoys. However, the iPad has a parental control feature that generates negotiation between Melika and Tiger

"It's my favorite!" Tiger asserted.

"I've put a limit .."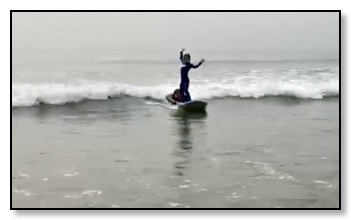 "It is
not
a game, Mom. It's a pattern matching learning tool."

"It has a limit."

"But Mom…"
Arrow and Azelle are, of course, not quite old enough for school. In 'old normal' times, however, they would both be going to pre-school. Instead, Melika and Tom have converted a room on the ground floor into a school zone and they found a really talented young lady with Montessori experience to work with the children in the mornings.

It is a fiery time here in California — and, in fact, over the entire West Coast (It's even burning in Alaska.) It's already the worst fire season in history (and we haven't even gotten to what is typically the worst month.) A couple of weeks ago, Santa Barbara set an all-time record high temperature of 103℉ (39℃).

We are fortunate to be far from the current active fires (which have burnt an area twice the size of Delaware). However, smoke has drifted into the area and the
skies
are not exactly blue anymore. On the other hand, the sunsets are pretty nice: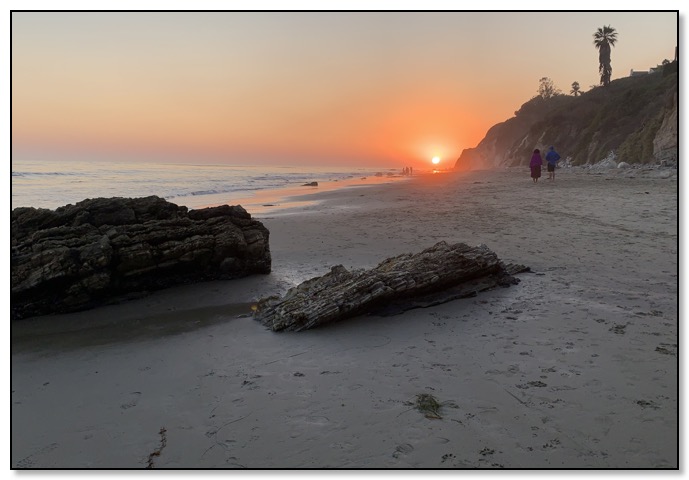 (During the day, the sun isn't quite so beautiful.) In spite of the somewhat hazardous breathing conditions, Nazy and I continue our (almost) daily walks along the beach. This week, we were joined by a flight of raucous seagulls. Given the way 2020 has gone, I expected ..

"… bad things to be dropping from the sky, Nazy," I exclaimed.

"I'm wearing a hat."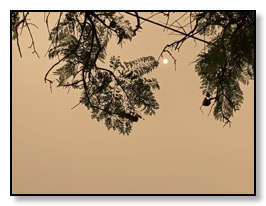 "It's 2020, my dear, you need an umbrella and a tent, too."
Nazy and I are lucky to live close enough to see Tiger, Arrow and Azelle frequently. When I went to pick up Azelle for a visit, she was very excited..

"Do you want to see Mamon?" I asked.

"Yes, Dan." Azelle, two years old, replied.

"Why?" I asked. "
Azelle thinks I'm two years old, too
," I thought.

"So much fun," Azelle concluded.

We have not been able to see Christiane, Darius, Leandra or Auriane for months — in fact, since Christmas. However, we have booked a trip to Bellingham (first class via Alaska Air) for early October. I tried to handle the details — specifically using credits from a flight cancelled in March to fund the new trip. But..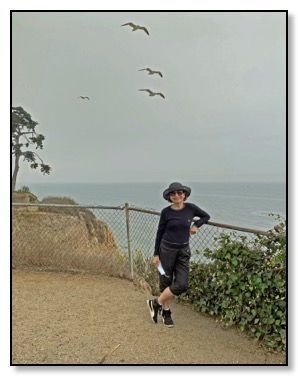 "Alaska Air has cancelled our Frequent Flyer account," I explained to Nazy, "and with it, they've 'lost' the credit."

Nazy called the 'service' desk which was controlled by a state-of-the-art automaton.

"your call is important to us and it will be answered in the order in which it was received. we are experiencing higher than normal volume. the current wait time is 1 hour and 10 minutes."

Nazy eventually got to speak with a human being and she got everything restored. However, that was just the beginning…

"We want to transfer the personalized license plate 'NAZ DAN' to the new car," I explained. "But I can't find a way to do it on the DMV (Division of Motor Vehicles) website. And the local office is closed, so I can't go in person and, eh, "

"I'll just call them Dan." Nazy replied.

"your call is important to us and it will be answered in the order in which it was received. we are experiencing higher than normal volume. the current wait time is 1 hour and 55 minutes."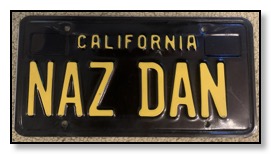 Nazy also called the local clinic to ask about flu shots — the waiting time there was quoted as 1 hour and 40 minutes — but since they haven't called yet, the real wait time must exceed 72 hours.



Exciting things are on the horizon for next week. Note:

on June 13, 2014 6/13/14 Tiger was born
on July 15, 2016 7/15/16 Arrow was born
on August 17, 2018 8/17/18 Azelle was born.
September 19, 2020 9/19/20 is coming.

Hint: It's
not
a baby


For last week's letter, please click here


Dan and Tiger