Birthday body glitters with Beatles red sole sales
It was the best of times — Nazy celebrated her birthday on April 1st which was, I thought..

"Appropriate, my dear, since that's when you were born."

We drove to Las Vegas for a fun long weekend. We stayed at the luxurious
Wynn Hotel
courtesy of Melika and Tom. According to Google Maps, the drive from Santa Barbara to Las Vegas would be a short 5 hours and 18 minutes …

"… assuming," I explained, "that there are no incidents on the freeways around Los Angeles."

"No incidents? When was the last time that happened?" Nazy asked as we hit the 101 freeway heading south.

"Actually, my dear, that has
never
happened. Los Angeles was founded on September 4, 1781, by Spanish governor Felipe de Neve right after he constructed
The 405
— a freeway that has been congested ever since
."


Astute readers can conclude that the drive took somewhat longer than Google's estimate. However, we arrived in time for dinner before seeing
Love
, a Cirque du Solei show at the Mirage, that features music from the Beatles. The dinner was wonderful and the show was spectacular.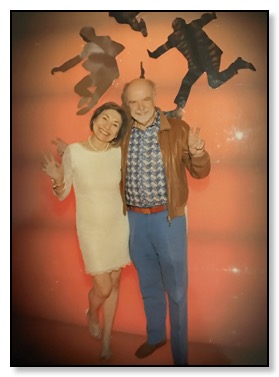 Nazy's plans for the next day, her birthday, revolved around shopping. So, in the interests of family fiduciary responsibility, I arranged a late start by sleeping in. We had a leisurely breakfast at the Terrace Restaurant. While we were standing in line..

"Are you from Lebanon?" Nazy asked the group behind us.

"Why, yes!" The man responded. "This is my brother and our wives."

From there, Nazy led the conversation and we ended up looking at iPhone photos of each others' families and sights in Lebanon.

"How did you know they were from Lebanon," I asked as we walked to our table. "
I'm surprised you didn't invite them to our room for dessert
," I thought.

"I could tell that their Arabic had a Lebanese accent," Nazy replied.
"Astonishing, my dear."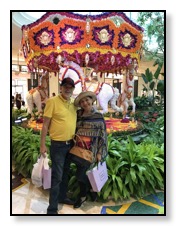 Aside: Nazy, with a constant smile, is spectacular at meeting people. She once joined me in Amsterdam after I had been traveling there every week for more than a year. I stayed at the Okura Hotel every week. After the first day that Nazy joined me, the concierge, the bellmen, the front desk staff and the maitre de at the restaurant knew her name. (Nobody knew who I was.) They all greeted her when we entered the hotel:

"Hello, Nazy!" The bellman shouted as we left the taxi. "
I wonder why she came with that grumpy old guy
? He thought.

We began the shopping expedition at the Wynn. Nazy found a Persian sales person (where we decided to 'think about' the $6000 limited edition
b
u
t
t
e
r
f
ly
purse). Then she discovered that the clerk at the toy store had lived in Zurich. We headed for the nearby Venetian Hotel because..

"I enjoy the shoppes on the Grand Canal," Nazy enthused.

Our first stop was at the Christian Louboutin shoe store. "I love their shoes," Nazy explained. "The
soles
are red."

"That's interesting," I replied. "
But no one can see the soles of your shoes
," I thought as I casually looked at the price tags.

"Would you like an expresso my dear?" I asked as I steered her out of the shoe store. "
And, I'll have a smelling salt
," I thought.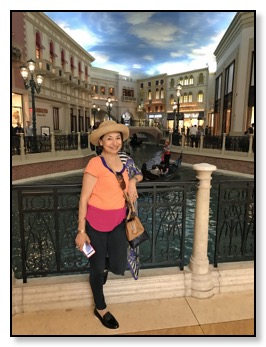 Nazy was sipping her coffee when I saw a giant "$A£€" sign at the Herve Leger store. Shunning tradition, I pointed it out to Nazy (and the rest was history).

"The store is closing in two days," the sales manager told Nazy. "We only have things in size S or XL"

"Well, 'S' is my size," Nazy replied. "And I love Herve Leger."

"They brought me here from Chicago and then closed the store. I'm getting no severance at all." The sales manager was indignant.

"They couldn't do that in Europe. How good is this sale?"

"You get 70% off the original price …"

"
Not enough
," I thought as I glanced at an original price.

" … and then 60% off of the remainder."

"Hmm," I interjected sagely.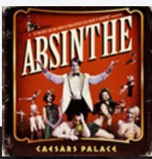 "But I like you, so I'll give you 80% off the original price and then 60% off the remainder."

"
That's a 92% discount
." I thought as Nazy headed to the changing room to try things on.

Surprisingly for someone who is size 'S', we ended up with a couple of size 'L' bags of dresses and skirts.

Then, because we had promised to bring a toy 'blue
bus
' for Tiger, we went to downtown Las Vegas (Fremont Street rather than The Strip) to look for a toy store — a specialty toy store.

I located the required item almost immediately.

"Excellent choice," the shopkeeper told me. "This is a one of a kind: a 1951 toy."

"The bottom is cracked," I replied.

"It comes with the original box."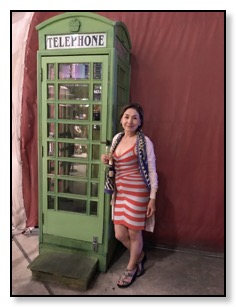 "Wow!" I replied. "
Whoppee
!" I thought.

"$350." the shopkeeper concluded.

"We're talking about a toy for a two year old."

"Perhaps we can find something more appropriate."

That evening, as a gift from Melika and Tom, we went to see
Absinthe,
a somewhat difficult to describe Vegas show. It took place in the round. We had front row seats about 5 feet from the stage. The show had acrobats, roller skaters (on a stage that was about six feet in diameter), a contortionist, tap dancers, a couple of fast talking hosts and a high wire singer who chose me.

"
Chose
you, Dan?" Nazy asks. "She wasn't wearing anything and she rubbed her.."

"Nazy! You exaggerate. She
was
wearing body paint."

"She rubbed her — 'bodypaint' — on your head."

"Come now Nazy." I replied. "
Some of her glitter got stuck in my mustache
," I thought.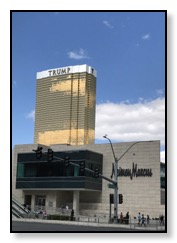 The only downside was the view from our room: the
Trump
Resort. This brings me to the regular update. A Facebook friend posted something about a lack of manners in the current generation. The post ended with a plaintive: "Whatever happened to 'Please' and 'Thank you'?" I rarely respond to these posts. But in this case, I was succinct:

"Please don't tell me you voted for Donald T
rump
. Thank you."

More about our trip in next week's issue of
The Weekly Letter
.

(A couple of photos follow)


For last week's letter, click here.


Popeye Statue at Wynn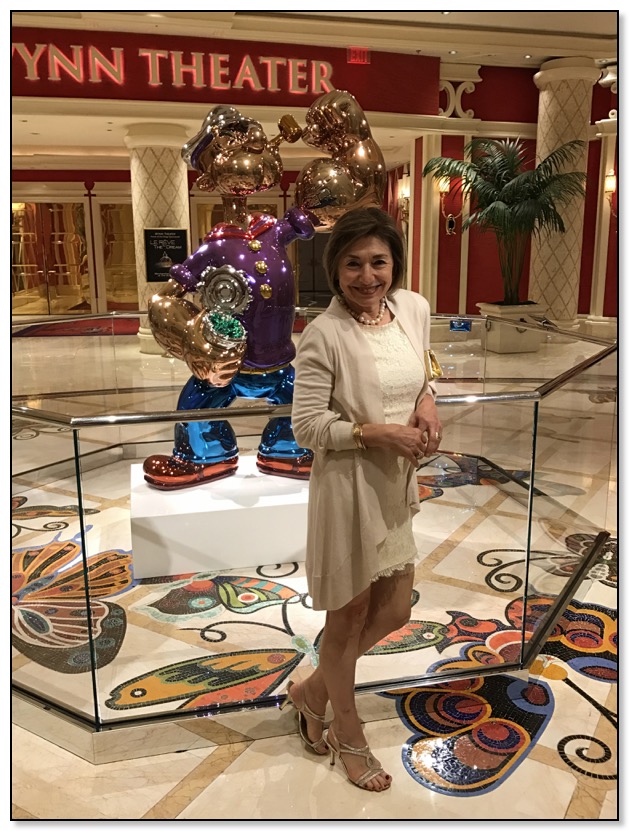 Smiling through the pacifier