Plotless threaded phantoms cling to couturier dinner dance
It was a tricky week for young Arrow. He was …

"Clingy, Nazy." I proclaimed. "
He sticks to me like cheap cellophane wrap sticks to itself
," I thought.

"He does seem lethargic." Nazy concurred. "And, he's not eating."

This latter bit of information was not only disheartening, it was unprecedented. Young Arrow
likes
to eat. Moreover, he has a very rapid metabolism, he
need
s to eat. Instead…

He coughed, he sneezed, he wheezed. His nose was stuffy. His eyes were puffy. He just ..

"Arrow feels like hammered dung, Dan." Tiger commented.

"Yes, Tiger," I replied. "He is not feeling good."

"No, Dan. He feels like.."

"I know what he feels like, Tiger." I replied. "
I have to be more careful with what I say around Tiger,
" I thought.

'Since he doesn't want to eat, I'll just take his cookie." Tiger continued.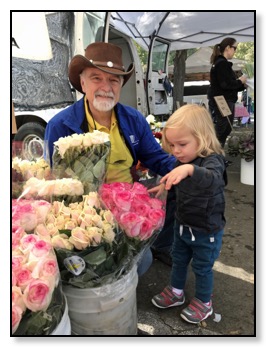 Nazy, more practically, took a look at Arrow's jaw. It was…

"…red and bleeding," she reported. "He has a canine coming in."

"
That might explain why he doesn't want to eat
." I thought.

However, the lad is young, resilient and very cheerful. He is getting over his cold, his tooth has arrived and he's back being to himself.

On Saturday we took him to
the
Santa Barbara Farmer's Market. He did a lot of walking around — petting the dogs and smelling flowers. We went to lunch afterwards.

"Why does Arrow get to eat all of
m
y French Fries," I asked as
he ate
, eh, as
we
shared
lunch.The
p
ediatrician confirmed that Ar
r
ow did not have the flu. She also placed r
es
ponsibility for the ongoing cases of the sniffles directly on Tiger's shoulders.

"Tiger," she said, "is the carrier. He is
i
mmune, but Arrow is not."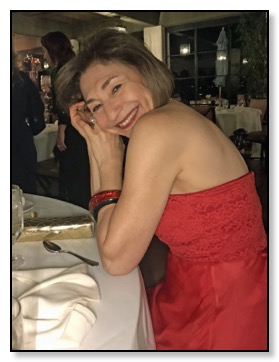 This week, Nazy and I atten
de
d
t
he

" … rescheduled Holiday Dinner Dance," Nazy reminded me.

"Ah! The Christmas Party." I replied.

"It's after Christmas, so it
is
been ren
a
med."


Stormy
days and local
fires
and
muds
li
d
e
s
caused the "reschedule". the ball was an elegant, black tie optional, affair. Nazy, of course, looked great a new dress that a local seamstress…

"
Couturier
,
Dan.
M
aria is a not a mere seamstress." Nazy explained.

"
Couturier
?" I thought. "D
o
es that explain why she does everything at the last minute?"

"What are you going to wea
r
, Dan?"

"I assume that my d
r
ess jeans won't …"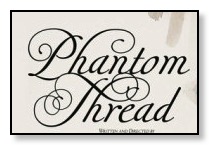 "D
on
't even think about it, Dan."

"In that case, I believe I'll wear my ancient dinner jacket"

"I think the pants are
a
bit baggy," Nazy replied.

"That's because I'm in great shape, my dear. N
o
t only can I wear the same outfit that I bought about 30 years ago, it even looks baggy on me."

"Styles have ch
an
ged, Dan."

"But you have to admit.."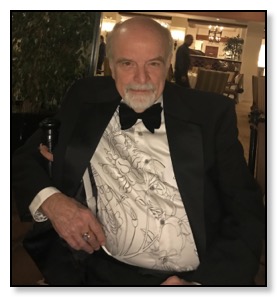 "You look great, Dan." Nazy concluded. "
He needs constant reassurance
," Nazy thought.

And, speaking of fashion design, Nazy and went to see the movie 'Phantom Thread' this weekend. It is the final movie for Daniel Day-Lewis who is retiring. It was..

"Strange," Nazy noted. "The dress designer in the movie, Reynolds Woodcock, was crazy."

"No doubt," I replied.

"How did you like the film?" Nazy asked. "
The dresses were ugly — especially the wedding dresses
," Nazy thought.

I was instantly on guard. When Nazy calls a 'movie' a 'film', I know that the event should be meaningful and
deep
. I paused and plunged ahead:

"I'm a plot kind of guy," I replied. "I like things to move, with rapidity, toward a satisfying conclusion. This movie.."

"… had style, Dan."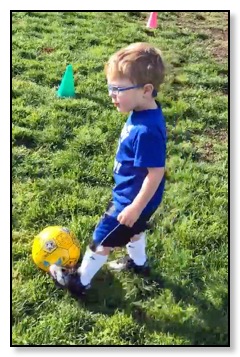 "Yes, 'style'. And mood. And ambiance. And aura." I replied. "

"So you didn't understand what was going on."

"It was beautifully photographed. The music created a mood of pathos and poignancy." I replied. "
I once saw a Chinese movie with Portuguese subtitles that was easier to understand
." I thought. "I did have a bit of trouble with some of the accents." I concluded.

"So.. you thought people were mumbling?"

"It was a lyrical masterpiece."

"So… you didn't like it?"

"It's not a matter of like or dislike. I left the movie baffled.
Everybody
in that movie was crazy.

"Including the people who suggested that we go to see it. Dan."

"I liked the font on the movie poster," I replied in an attempt to explain myself.

Meanwhile, young Tiger is taking soccer classes with his Dad. And, this Sunday, he'll go to Los Angeles with Melika and Tom to see his first Broadway show — Aladdin at the Pantages Theatre. Like me, his parents really love Broadway musicals and I think that Tiger will have a wonderful time as well. He and Arrow both love to watch Disney song videos. (Arrow's favorite is the Circle of Life from The Lion King.)


For last week's letter, please click here.


Selfie Nazy, Dan, Arrow Jan 2018