Birthday Arrows with flying hats and soul-less cars
We celebrated Arrow's 4th birthday this week. As you might expect, he was
really
excited. Although it seems like he has been looking forward to this forever, at the same time, he was not willing to rush things. Recall a few weeks ago when he refused to wear his new size 4 pajamas because ….

"I'm not 4 yet!"

He had also promised to stop using his pull-up diapers when he turned four.

"When I'm four, I will practice the potty," He asserted.

As the fated date approached, the stock of 'pull-ups' diminished. Naturally, I had full confidence in Arrow..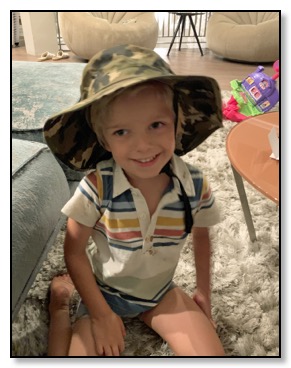 "
What we will we do when we run out of diapers and Arrow runs out of will power
?" I thought.

Melika did run out of pull-ups, but Arrow did not run out of will power. Everyone hopes that Azelle was paying attention. Girls seem faster: Leandra passed the milestone a short time ago.

Nazy made an ice-cream birthday cake and we got Arrow a collection of hats. He wanted to see lava, so Melika and Tom got him a lava lamp. He also got a disco ball, magnetic blocks and a puzzle. The Zoom call planned to start just before the birthday party at Melika and Tom's….

"… was delayed by
your
laptop, Dan." Nazy recalled.

My five year old MacBook Pro is exhibiting signs of dementia.
Sometimes
, eh, often, it just spontaneously reboots. The battery will not charge. It has become extremely slow. The touchpad is immune to touch. We substituted Tom's laptop…

"… which has a damaged speaker," Nazy observed.

"I thought it was my ears," I replied. "Mitra sounded like she was using voice scrambling technology."

"
Everyone
sounded that way!" Nazy noted.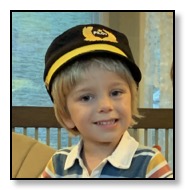 "
Even the people who were in the same room as us
?" I thought.

Charmingly. Arrow let both Tiger and Azelle help him open his presents. It didn't take long for Azelle to realize that her birthday is coming next.
It was challenging to get a complete picture of the entire Adams Family in one take because Tiger refused to be photographed for the event. (He wasn't looking when the picture on the left was taken.)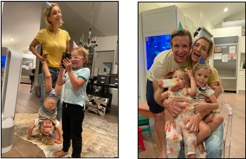 Arrow is such a smart and kind young man. When I'm taking him to the car, he sometimes runs back to his house because…

"I forgot to give Mama a hug and a kiss."

He shares his donut holes — as long as I have enough for everybody. (The lad is practical.)

And he remembers everything:

"Dan! Why did you say that Donald Trump is a …"

This was also an automotive week. Soulfully, Mitra and Stefan returned their fully electric..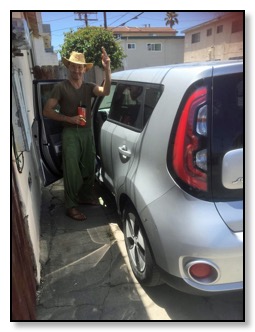 "… Kia Soul," I explained. "
So now they are Soul-less
," I thought.

Their lease expired in early March, but the dealers were closed so Kia wouldn't take it back. About 100 days later (it felt like 1000 days), they were finally able to return the car.
Even though they are Los Angeles residents, Mitra and Stefan haven't used the car since the pandemic began. Bicycles and legs have proven to be not only adequate, but also healthy.

Our lease is also expriing, but the Volvo dealership (which moved to Calabasas, a city just outside of LA) was a bridge too far. So, although I really liked the car, we decided that a local replacement was appropriate. Unfortunately, this entailed multiple visits to car dealerships — an experience that I have always found to be uniformly unpleasant. For the most part, this year was no exception. Choices were limited, deals rare, sales people distracted (or, in the case of Lexus, rude) and prices untethered to reality. We ended up with a local Ford Escape which is ideal.

North (in Bellingham), confronted with Christiane's completely full iPhone Darius deployed his vast technical expertise to free space for more photos. (When you have young children, you always need space for photos.) His first move was to backup the existing photos onto his computer. But..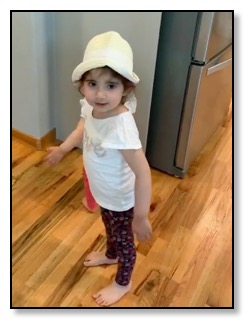 "That didn't work, Dad. There was not even enough space on the iPhone to do a backup. I found a service that cloned the iPhone memory, erased all of the photos and then put them back on the phone. Somehow this created enough space for me to backup on my computer. Then I backed everything up on iCloud. Then I deleted everything on the iPhone."

"And then you declared victory." I replied.

"For now. Memory is filling up fast. Did you see the video of our girls with their hats?"

"Indeed I did, Dar. Hats are popular in our family."

If you have young children, you can't have too much photo memory.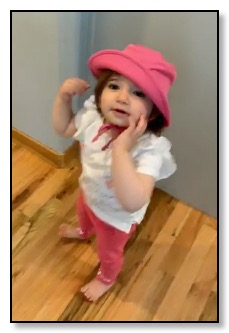 Finally, inspired by Mitra, Tiger and Arrow planted sunflowers in their backyard. The seeds germinated and began to grow. Sunflowers grow very quickly and can end up very tall.

"Did you see the sunflowers in the house on the way to our place?" I asked Tiger and Arrow.

"They are taller than the whole house!" Tiger exclaimed.

"And how are
your
sunflowers doing?" I replied.

"The gardener chopped them down."


For last week's letter, please click here