First class elbows tax exit plans
At the end of last week's letter we were in the midst of an uncomfortable discussion with the Swiss taxation enforcement division chief, Frau Maier.

"If we don't pay?" I asked.

"You don't leave." Frau Maier retorted.

"But we have a flight at 11:45 tomorrow morning," I replied.

"We will stop you at passport control."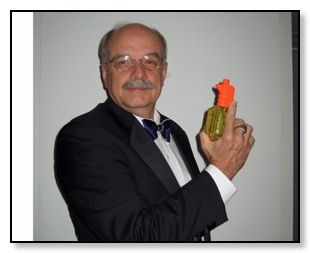 "That sounds ominous," I replied. "
We could drive to Stuttgart or Milan and leave from there
," I thought. (James) Bondishly. "Perhaps we can negotiate," I tried.

"I will speak with my boss," Frau Maier replied.

"
This is getting challenging, Nazy
," I whispered as the door closed. "It's 3:30, the office closes at 4:30 and if we don't get this resolved very soon.."

"You're always being negative, Dan. Everything will work out," Nazy saw Frau Maier returning.

"You will have to stay in Switzerland."

"That's pointless," I replied. "We're leaving because
$witzerland
is too expensive. If we stay, we won't have
any
money for taxes."

"
Maybe
you
can stay, Dan
." Nazy whispered. "I will go."

Frau Maier brought her boss, who was willing to negotiate, into the meeting. We finally agreed on a large tax payment. Nazy and I walked to the nearby Credit Suisse Bank and authorized an enormous transfer. We collected our documentation and saw that it had started to snow. We trudged back to the taxation citadel.

"This is not sufficient," Herr (Rule)Stickler said. "This document shows that you have
authorized
a transfer. It does not show that we have received our money."

"
My
money," I corrected.

"You need to get better documentation."

"Better documentation? That sounds very scary."

"Or you can wait until Monday..."

We walked back to Credit Suisse where we discovered that a cash payment was the only solution. We simply had to carry a large number Francs four blocks, through a blizzard, to the post office. Credit Suisse put the requisite 1000 Franc bank notes (each one the size of dinner placemat) into large envelopes. Nazy and I headed to the post office. The postal clerk counted the money but

"... this note doesn't have the right feel," she mumbled. "I must have our expert perform an analysis."

"We just got the money from Credit Suisse."

"Precisely. That's why we have to make the analysis."

We ended up with an exit stamp at 4:18PM.

"See, Dan!" Nazy exclaimed. "I told you everything would work."

"Wonderful, my dear. Twelve minutes to spare and a zillion Francs poorer. I'm not certain that I can stand much more 'working out'."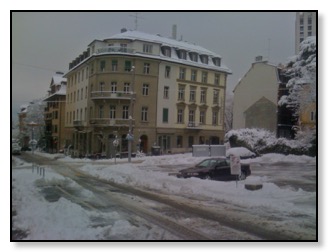 Zurich was covered in snow when we awoke the next morning. I pushed 8 inches of snow off the car and headed to the airport. Courtesy of HP frequent travel, we were flying United Airlines
Global First Class
... on the Zurich to Washington leg of the flight. We commandeered two large baggage carts..

"That's sufficient for the carry-on bags," I noted. "What about the stuff we want to check?"

Unfortunately, we had to change planes and flight classes in Washington. It was, moreover, a tight connection. Naturally, I approached the situation with my normal upbeat and positive attitude.

"We have 57 minutes to make our connection, Nazy. We have 57 tons of carry-on luggage. We have to go through immigration - where we will be standing in line behind 57,000 people, baggage claim and another intrusive security inspection. It's not possible. We will never make it.."

"Dan," Nazy interrupted as the flight attendant poured the champagne and drew her bath, "don't worry, it will all work out."

"
Luckily
," I thought, "
we're flying United. I bet the flight from Washington to Los Angeles will be late.
"

The flight across the Atlantic was uneventful. (For me; I slept on the flat-bed.) Nazy had a pedicure, a manicure and her hair done. She worked out in the attached gym. She attended a wine-tasting and took a Cordon Bleu class.

"You didn't take advantage of the amenities," she claimed when we arrived in Washington.

"Did you order a porter?" I asked.

The immigration queue was long. "At least we won't have to wait for our luggage," I remarked as we waited for an immigration agent. The TSA security inspection queue was even longer. Nazy was routed through the irradiation machine ...

[Aside: A few fools in the UK fail to get on an airplane with a liquid bomb that wouldn't have worked and no one is allowed to carry perfume or shampoo into an airplane. A moron fails to ignite a bomb in his shoes and hundreds of millions of people have to take off their shoes at the airport. Mentally disturbed young men shoot and kill many people with military style assault weapons and: nothing happens?]

"There is something wrong with your elbow," the security agent told Nazy. They 'had to' perform a physical pat-down. In an unlikely cosmic fluke, I was also randomly selected for irradiation.

"There is something wrong with your elbow," the security agent told me.

"There is something wrong with your machine," I muttered. Stupidly.

"Why are you patting my butt?" I asked. More stupidly. "I thought my elbow was the problem."

Eventually ........ very eventually ...... I was released and we began our trek to our connecting gate. As I was putting my shoes and belt in place, I heard the irradiation clerk behind me. "There is something wrong with your elbow."

"If the connection was tight, Dan, why did you make a scene at security?"

"Their machine was broke, Nazy. There is nothing wrong with our elbows."

"Now we will be late."

"Yes, my dear, but luckily (and predictably) our flight is even later."

We made our connection. Moreover, even though it was an economy-class trip, no one sat in the middle seat, so Nazy and I had an entire row to ourselves. We arrived in Los Angeles and had a nice welcome dinner with Mitra and Stefan.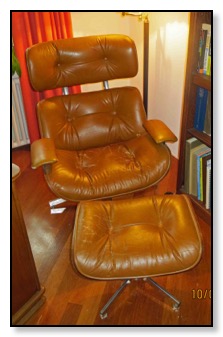 Now we're working on the simple issues... a car and a place to live. (If I can live without my favorite chair: the one Nazy sold in Zurich.)


What's it like in California? The photo below is a sunrise from Santa Barbara.