United Air flummoxed; anniversary luggage lost; tigers and arrows happy
It's been an eventful and exciting July highlighted by the arrival of our newest grand(est)son and the celebration of our 44th wedding anniversary.

"It couldn't have been better!" Nazy remarked as she actually shared a cheesecake dessert after our anniversary dinner.


Reader Alert
: The author is aware that some readers
may find
,
will find
it difficult to believe that Nazy: (i) allowed me to order a cheesecake, and (ii) that she actually ingested said cheesecake. I can honestly report that: (i) the other dessert alternatives were (even) more calorie intensive and (ii) the word 'share' in the previous paragraph does not mean equal portions. Moreover, to help you imagine the scene, you should include the phrase, 'averted eyes'. And, although there were two forks, Nazy's was considerably smaller than mine. And she did make me agree to work the calories off by walking to Los Angeles the next time we visit Mitra. And, finally, there was the customary query: "Why did you finish the cheesecake, but leave most of your salad?".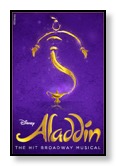 As all of this was happening, I was considering Nazy's observation which, to refresh your memory, was: "It couldn't have been better!".

"It would have been better if the 'investment' property in Washington had sold." I mumbled.

"It would have been even better if you weren't flying away during the last week of the month," Nazy countered.

Nazy was, as usual, right. I was booked for a quick business trip to New York City. Not only would I be away from home, I would be flying without the Elite Frequent Flyer status that made the
HP
business trips (somewhat) bearable. A series of cosmic miscues left me in (un)proud possession of 800,000+ miles with each of Swiss, Continental and KLM. And, even though I had flown more than 1,000,000 in at least two of the three major airline alliances (Star Alliance, SkyTeam and OneWorld), I didn't have life-time premier status. I was closest to the 1,000,000 mile(stone) with United, so…

"With great reluctance, Nazy," I explained, "I have booked a United trip."

"United?!" Nazy exclaimed. "Aren't they the airline that stranded you in Geneva
and
Denver on the same trip? Didn't they take 3 days to get you home from Europe?"

"And five days to get my luggage home."

"That was the luggage with your anniversary present for me."

"The luggage was mute. If I hadn't complained, it would have taken United five days to get
me
home."

"And you 'chose' United for this trip, Why?"
"It was the lowest price.."

" … for a reason."

" … and was conveniently timed."

"What time to you leave?"

"6:05AM."

"That's convenient?"

"Will you take me to the airport?"

Nazy, stunned by the audacity of my query, just stared. I asked Melika for help and she arranged a trip with TJ. (TJ drives them everywhere.)


I was astonished when both outgoing flights (Santa Barbara to LAX, LAX to Newark) were smooth, pleasant, uneventful and on-time. (I slept the entire way.) My transport from Newark to mid-town Manhattan, arranged by
Tinker Travel
, was also perfect.

I had several good meetings in NYC, saw a couple of Broadway shows (Aladdin and Matilda) and enjoyed good restaurants with interesting and smart people.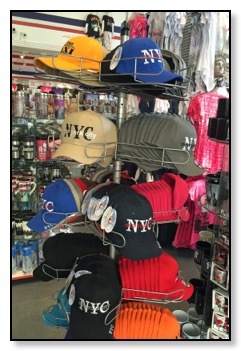 Even though it was about 100 ℉ in New York, I still had time to buy souvenirs for Tiger (little cars: a NYC garbage truck, an articulated bus, NYC s-t-r-e-c-t-h limo and a double-decker, no roof, tourist bus) and Arrow (a newborn-sized
I
❤️
New York
shirt). I even enjoyed the hat sales rack.

Unfortunately, the fact that I wanted to return home meant that I had to give United an opportunity to mess things up. They were, predictably, up to the challenge.

My journey home(ward) began on time. (Thanks Tinker!) My first United flight, (Newark to San Francisco) pushed back exactly on-time. And, although we joined an enormous queue ("… we are 17 to takeoff..&rdquo

, the pilot claimed that we'd arrive on-time. 40 minutes later, we turned onto the takeoff runway. 40 seconds after that, we tuned back to the adjacent taxiway. Luckily the Captain explained the situation.

"
Weather in our takeoff path has made it necessary to change our routing. While 'they' work it out, we'll be rejoining the queue to takeoff.
"

"
Weather
?" I thought as I noticed the blue skies surrounding the airport. A mere 80 minutes later, we actually took off - into headwinds significantly more speedy than normal. I partially conformed with instructions to put my iPhone into 'airplane mode': I silenced the ringer and engaged vibrate. Somewhere over Colorado, and about 10 minutes before the scheduled departure of my connecting flight, I got a text message saying that the flight had departed and that I'd been rebooked on an early morning flight the next day.

"
Great
!" I thought. "
Now United has stranded me in San Francisco. It's a trifecta since they've previously stiffed me in Denver and Los Angeles.
"

As soon as I arrived, I marched to customer 'service' where I stood in line. I knew that United had created the long line with the hope that I'd calm down by the time that I actually reached a human being. Their hope was misplaced.

"Does United pay for a hotel?" I asked.

"Yes!" the clerk replied.

"Yes?" I responded. Although I was astonished, I was also wary. "Which hotel?" I asked.

"We will reimburse you," the clerk replied. "I'll give you a reimbursement form."

"Can you find a hotel for me?" I asked.

"We can't find a hotel."

"If your giant airline can't find a hotel room, how do you expect me to find one?"

"We've used our allotment,"

"I can imagine," I replied looking at the gargantuan line of people waiting to be disappointed.

I strolled to baggage claim, found an information desk and began calling nearby hotels. It was a desperate time: my iPhone ba
tt
er
y
was fading as hotel after hotel claimed to be fully occupied. I finally found a dump and had an (unfulfilling) 3.5 hours of sleep before heading back to the airport.

Nazy must have missed me because she met me at the Santa Barbara airport at 7:00AM. Tiger also missed me, but he was happily distracted by his little cars. Arrow was less demonstrative; his unbridled excitement was hidden behind phlegmatic concentration with either a pacifier or his diaper.

As you can probably guess, we also had some time to visit with our grand(set)sons.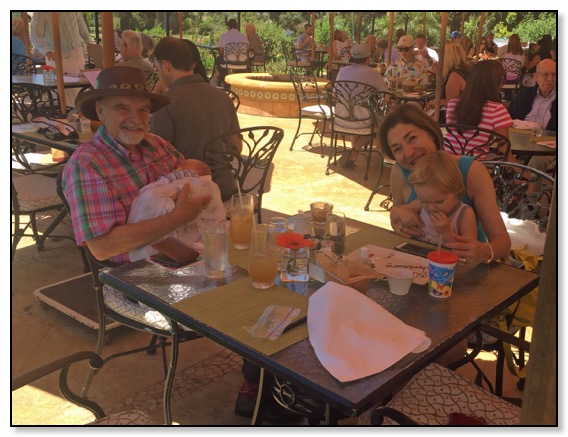 For last week's letter, click here


The grandest sons at the same age