sandy graduation mis-sizes pajama party tree marble
Graduation time? Who is graduating?" I asked. "
And from where
?" I thought.

"Yes." Nazy replied. "And, as you know, Tiger is graduating from Kindergarten."

"I thought graduations came in June."

"It is June, Dan."

"You mean … March finally ended?" I replied. "
What happened to April and May
?" I thought.

Since we are living in a Corona Virus era, the graduation event took place electronically. We watched his teachers, his classmates and, of course, Tiger by video. And, because it is reasonably safe to be outside — as long as you stay away from people — we took a few excursions. The ocean was the obvious first destination..

"… and since I knew you'd want to see the ocean, Tiger," I explained as we were made our way, "I turned on the faucet before we left so that it would be full."

"I don't think you did that, Dan." Tiger replied.

"Really?" I retorted. "Look! The ocean is full."

While Arrow builds sand castles, Tiger collects ocean water needed to make the sand stick together…

"Where did all this sand come from?" Nazy asked when she saw the car.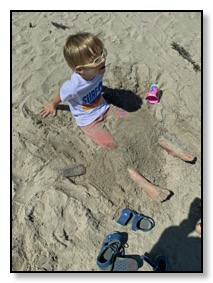 "Sand? What sand?" I replied innocently. "
The answer seems pretty obvious to me,
" I thought.

"Did you tell Melika that Tiger will need a shower?" Nazy continued.

"Of course!" I replied. "
I'm sure she can figure it out by herself,
" I thought.

"He's a mess," Nazy concluded.

"He's a six year old boy, Nazy," I replied noticing the look on Nazy's face. "By 'he' do you mean 'me'?"

"There is sand on the driver's seat."

"The castle needed my help," I replied, helplessly.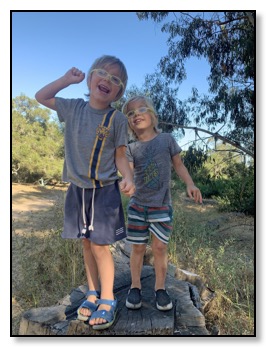 Later, I took Tiger and Arrow to the nearby Douglas Preserve to walk through the trees and wildflowers.

Nazy and I also enjoyed a sleepover with Tiger and Arrow on Tiger's (6th) birthday eve. Courtesy of Melika, all four of us had matching pajamas and…

"Tiger's are size six," Nazy commented, while yours, Arrow, are size four."

"I'm three," Arrow replied.

"You are almost four," Nazy responded.

"I'm not four." Arrow was adamant. And..

"… he won't wear his pajamas because they are size four," Nazy explained.

"I don't see how that explains it," I replied. "Shall I talk to him."

"Give it a try."

"You're right." I reported after a fruitless conversation.


Tiger, Nazy and Arrow celebrate Kindergarten Graduation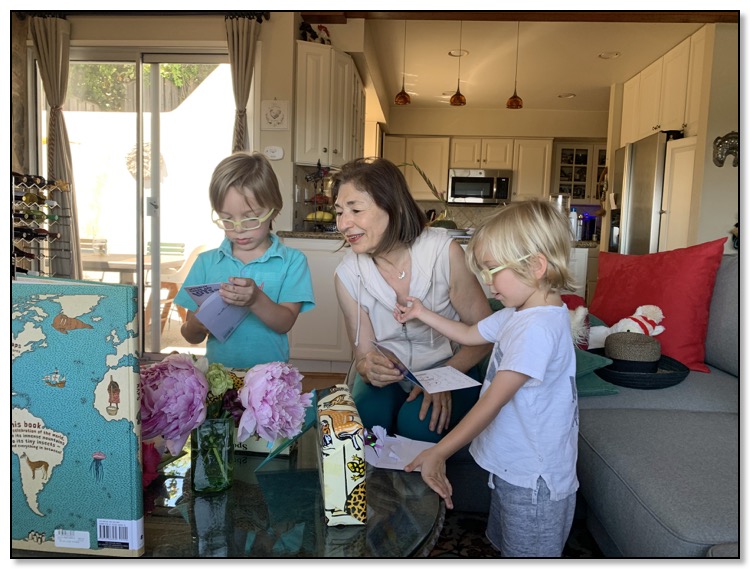 Tiger is really 'into' marble runs — he loves to build complex structures with multiple paths. Accordingly, we got him an 'elevator' to move marbles back to the top of the run and, in addition, found some special pieces for his collection. The biggest challenge, however, is not associated with construction.

"… don't let Azelle see this maze!" Tiger commanded.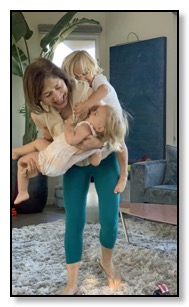 "Of course not." I replied.

Nazy has been spending a lot of time with grandchildren, but she has still …

… has been making really great progress on The Safavi Family Tree. It is, in fact, almost finished. The tree, a watercolor masterpiece, is …

"… roughly the size of a minor European principality." I noted when Nazy asked if I could scan the end product. Now I'm researching industrial scanning services.

The tree, which is a major update, begins in the year 601 and includes all of (or at least all that Nazy could find) of the most recent generation — i.e. the one with our grandchildren. The last five generations on the tree are color-coded. It is a beautiful work of art and design.


For last week's letter, please click here


Nazy, Tiger and Arrow having fun