Let's deal curling Koalas in colorful pants
I hope that this week finds you happy and healthy. Here, we're wrestling with

"...trees!" Dale, the crew leader from Tree Care, Inc. explained. "That tree has to go."

"But it's huge."

"It's huge, but it's not on your property and it's leaning: in a heavy rain, it will crash down."

"
Seems safe enough to me
," I thought. There hadn't been 'heavy rain' here since a native American Chief named 'Noah Deluge' led an expedition from Vancouver to Cabo 15,000 years ago.

"And the tree isn't even native," Dale continued.

"
Maybe it wasn't Noah who led the expedition
," I thought. "
It was probably Johnny Eucalyptus Seed
."

"It's ugly. It's filled with oil and will explode during a fire."

"
That's concerning
," I thought. "Fire is more likely than flood." I replied.

"And the tree is from Australia."

"So are the Bee Gees," I replied. "If you cut it down, what will happen to the local koalas?"

"And see that ugly pine tree?" Dale continued. (And continued.) "Someone planted a Christmas Tree there several years ago. Now it's an eyesore."

"It was pretty when they had the lights on it." I replied.

"It's coming down. It will improve the view."

"Who's view?"

"Your neighbor's view."

"So why do I care?" I replied. Bluntly.

"You won't get Eucalyptus Bark dropping on your car anymore."

While Nazy and I were negotiating with the tree people, time was ticking down to Melika and Tom's TV appearance.

Several months ago, in Los Angeles, they went to a game show (Let's make a Deal).The show requires that the audience (potential contestants) dress in costumes and..

"Costumes!" I exclaimed. "That's perfect for Tom. He has a costume closet."

"
We
have a costume
room
, Dad," Melika corrected me. "But - in order to be selected, we needed boundless enthusiasm."

"Tom's certainly got that," I replied.

The show, filmed several months ago, was broadcast last Wednesday.

Tom was not only selected from the audience, he also made it through the program as a 'big winner' and decided to trade what he had won to go for '
The Big Deal
'. (Melika had several cameos in the show.) For The Big Deal, Tom wanted Door 3, while Melika recommended Door 2. See who was right by checking out the video (link below). Friends, Mike and Sherry, were also participating at the show.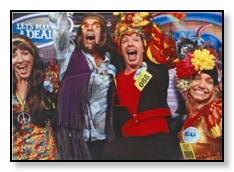 http://www.cbs.com/shows/lets_make_a_deal/video/4y_ubBVb8L_Cgx92O9_zcjStSBkexnNX/let-s-make-a-deal-2-13-2014/


The Sochi Olympics have taken center stage at NBC-TV. The highlight is, of course, curling. Specifically, the Norwegian team's curling pants.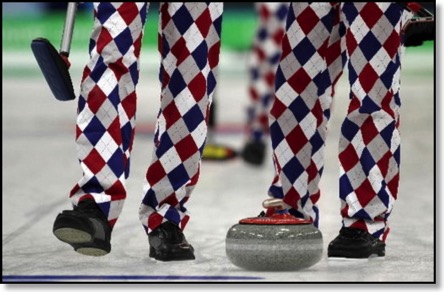 As a pants connoisseur, I'm excited. I even have some knowledge of curling. Several years ago, the day before Nazy and I were going on vacation to the Far East, we had an encounter with curling. It began with a discussion about packing. I was predictably bold and courageous in defending my position:


"Yes, dear." I said.

"And don't forget that we're going curling this evening." Nazy noted.

"Curling? The day before we fly to Seoul? Are you out of your mind?"

"I made the reservation because you said it would be fun – Dan."

"Excellent idea, my dear."

In fact, I did recall agreeing to the curling expedition. On TV it seemed like a simple and innocuous little game. But TV doesn't convey all the facts. The coach was more forthright:

"The stone weighs 20 kilograms…."

"20 kilos?" I thought. "That's almost 50 pounds."

"… so do not try to pick it up. Now put this slider over the sole of your left shoe."

"Slider?" I thought.


The slider is a friction-free piece of Teflon™ designed to allow one foot to slide across the ice while the other leg is (hyper)extended, an arm is leaning against a moving broom and the right hand is attempting to launch and steer a 20-kilo stone toward a target a zillion meters away. It is impossible to play this game without hurting something. For example, stepping onto the ice with the left foot first, i.e. with the slider foot, will cause rapid, downward acceleration of the buttocks. Gravity ensures subsequent contact with cold and wet ice. Contact causes rapid deceleration and equally rapid muscle contraction. Pain follows.

Luckily, we were flying business class the next day.