Flower watering with marbles, mazes, masks and mobility
As March enters it's third month, we're …

"Taking it one day at a time," a friend reminded me.

"We have to," I replied. "
Because that's the way time works,
" I thought.

"And I'm getting tired of social distancing," he continued.

"Me too. But there is a simple way to do it easily: make everybody hate you." I continued. "
It appears to work for
donald trump
," I thought.



Watching Azelle help me water the flowers this week …

"What happened to that flower that she's watering?" Nazy asked. "It looks…"

"It looks like a bigger flower fell on top of it and chopped it into two pieces," I replied.

"That's because…"

" … that's what happened. It was a very windy day."

As you can see in the photo, Azelle has followed in the footsteps of her brothers with the flower watering experience.

During the covid-
19,
situation, we've been helping Melika and Tom with home schooling. We've noticed that Arrow really likes building things — especially marble maze runs. He likes to watch complex and over the top patterns. And he wants to build them on his own — with a little help from Nazy (mainly) or me (secondarily). In the process, he's also learning to assert himself with Tiger: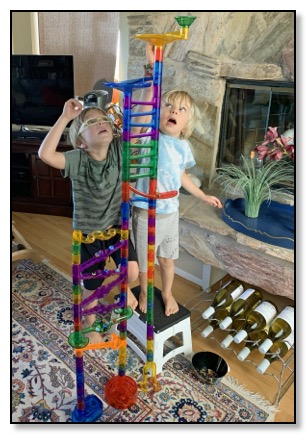 While Tiger was working on his math with me, Arrow was building his own marble maze downstairs with Nazy. When Tiger was finished, he raced downstairs to 'help'.

"No, Tiger, no!" Arrow shouted as Tiger arrived.

"But.."

"I built a high one. Do not take my maze down."

"Arrow! I can build.." Tiger began.

"No!" Arrow retorted.

Amazingly, and with a little help and advice from Nazy, Tiger agreed to replicate (exactly) Arrow's design and connect, in parallel, to
Arrow's
existing tower. Another time, he actually let 'Arrow's side' be higher. (That agreement was easier to enforce when some maze pie
c
e
s
disappeared into Nazy's pocket.)

The boys, their parents, Nazy, me and most people in Santa Barbara (and California and the country as a whole) are getting tired of 'sheltering at home'. Some people have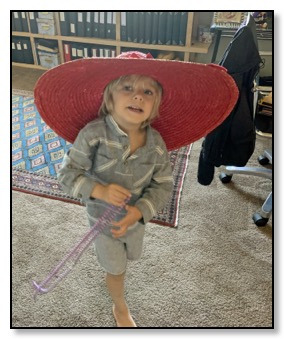 "… stupid beliefs, Dan. A guy on TV said that the Corona Virus was a Democrat hoax."

"Were you watching Fox 'news'?" I replied.

"Of course not, Dan. But.."

"It's an interesting point of view — and it forces us to vote Democrat. If it's not true, then we can't vote for the Republican party of liars .."

"… and if it is true?: Nazy asked.

".. then we must vote for the Democrats based on their ability to build consensus."

"Build consensus?"

"Right! If it's a Democrat hoax, they got the
whole world
to pretend." I concluded.

Unmoved by the 'hoax', unconvinced by the 'warp-speed' vaccine and uncomfortable with '
presidential
'
ineptitude, we are, nevertheless beginning to plan for some changes. But..

"I don't imagine we'll be eating at self-serve salad bars anytime soon," I commented.

"Or sitting in crowded airplanes.."

" … crowded restaurants, "

" … crowded theaters.."

"Or crowded crowds." I concluded.

Back at Nirvana, Tom took Tiger, Arrow and Azelle to the balcony to see the Red
Tail
Hawk family that set up a nest in a tree in their backyard. He also brought several bubble makers: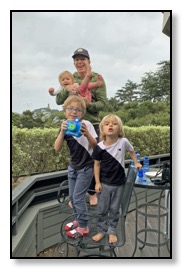 Nazy and I continue to enjoy walking along the beach. The weather is beautiful (we are in California) and people are generally good about keeping their distance. However, many do not(or even locally) embrace a masked culture and a few choose to ignore recommendations to walk, surf or swim at the beach preferring to sit, sunbath and vegetate.


For last week's letter, please click here


Tiger and bubbles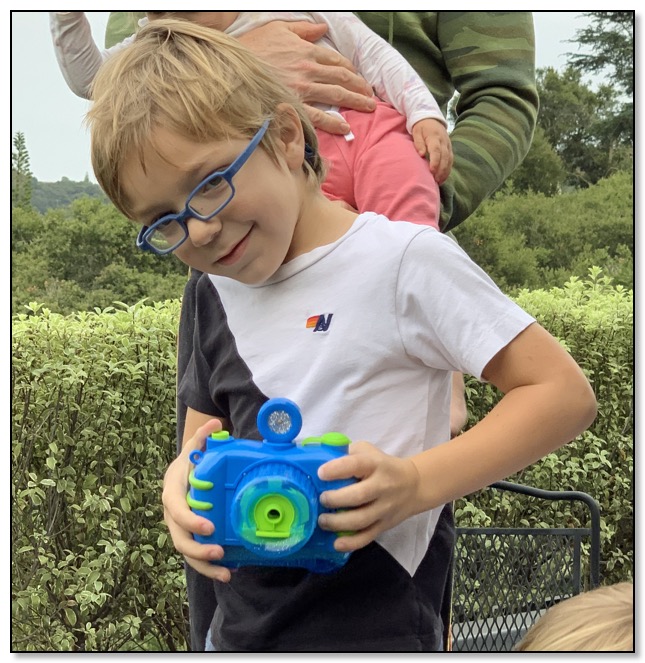 Nazy at the Beach