Move relocate decamp box pack ship - and - shop
I hope that you're well and happy. Here, Nazy and I are about to embark on a voyage to a new home in California. As you read this, we will be en route. We're flying on United Airlines, so I've planned for lengthy delays, missed connections, immigration challenges and lost luggage. In short: I expect to be 'en route' for a l o n g time, And to my friends who claim that all of this occurred because of United's acquisition of Continental, I simply note: "Unlikely, I flew United before the merger."

After we returned from Egypt cleverly missing the riots (by pure chance), we were happy to have an additional day in Lebanon with Dariush. We left the same day that Darius was going to Germany where he was giving a seminar. We were shocked (shocked!) when he began preparing the day before he departed: he had three (whole) days to get ready; it was a week-long seminar.

Darius' flight left Beirut at 7:10AM so, because ours departed at 3:15PM (and there is nothing whatsoever to do at the Beirut airport), Darius headed to the airport well before us. Aware that there would be no traffic early in the morning, he booked a 6:00AM taxi.

"But, you should reserve a taxi for noon," he informed me. Incongruously.

"How about 12:45?" I replied. "Are you sure that you have enough time?"

"There will be no traffic for me, Dad. But you should be cautious."

At 6:00AM, Darius was not quite ready. Nazy was packing his suitcase and giving him last-minute instructions about what to do when he returned: "I've cleaned the refrigerator and you have fruit and staples available. When you get back, cook some rice.."

"Darius didn't know that he had an oven, Nazy." I opined. "He is not going to cook."

Undaunted, Nazy continued. "Your socks are hidden in the corner pockets on your hanging luggage. I've packed your winter coat - it's cold in Germany - and I added a tie."

"A tie?" Darius thought.

"When you get back home, see if you can find the vacuum cleaner."

"Who could lose a vacuum cleaner?" I thought.

"The painters are making a lot of dust and you'll want to get rid of it," Nazy continued.

"Vacuum cleaner?" Darius thought.

Darius casually caught his taxi at 6:15. At 7:08AM, I got a text message from him.


I just barely made it. You should leave very early.


(I think that Darius booked the taxi for the time that he wanted to be in the airport, not the time that he wanted to leave for the airport.)

As Nazy and I began to come to grips with the myriad of tasks associated with moving, we were happy to learn that Darius would be able to stop in Zurich on his way back to Lebanon. His seminar had gone very well, but he was looking forward to getting back home. We had a great time with him.

Reader Interrupt: "Wait a minute! Did you say that you're moving?"

"Eh, yes."

In 1984, we moved from Memphis to Vancouver. In 1985 we moved from Vancouver to Houston. In 1986, we moved from Houston to Hanover. In 1987 Melika, now 6 years old, knew the routine:

"Where are we going to live next year, Dad?" She asked as i was dodging the 'damn black flies' during the New Hampshire mud season.

"The last few years were not career-enhancing," I had thought. "We're not moving, Melika," I replied. "Never again." I thought. (Two years later we moved to The Hague.)

As you can imagine, we know how to move. But..

""Well, 'know'ing and 'doing' are not the same," Nazy observed. "We started this move late.."

"We?"

"And now you are behind. So I will take things into my own hands."

"I'm not.."

"Usually when we move, you're not around. I'm left with all the work. You're in the new city having fun."

"That's because you get things done," I replied. I volunteered to visit the Post Office to forward the mail.

Nazy, unamused by my suggestion, seized the initiative: she tried to give away furniture that she didn't like.

"But we've had that dining room set for 38 years, Nazy." I moaned.

"I've hated it for 37.95 years," Nazy replied.

"We got it when we bought our first house. It had a large dining room. Remember? 905 Kensington Place in Memphis. We bought it.."

"At Sears. On sale - because no one else wanted it."

"Your Dad liked it - he bought two extra chairs."

"That's only because you kept sitting in the arm chair - and he wanted that chair." I noticed that Nazy's eye was wandering.

"Don't even look at my desk," I shouted as she examined my study.

"So what are you going to leave behind?" Nazy asked.

"I guess I can part with my collection of Time-Life nature books and the Durant 'History of Civilization" series." [See books below.]

"Good idea. All your reading is on the iPad."

"But I really like those books. I started collecting them before we were married."

"When was the last time you read one of them?"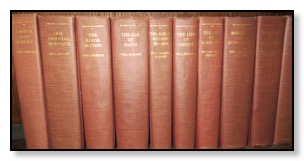 "Before we were married."

"You won't miss them."

"Probably not."

Nazy also decided to chuck the black end-tables that I bought 20 minutes before the Georgia Tech/Alabama football game in 1968. (And 3 years before I met her.) By the way, Georgia Tech lost. I wanted to part with the piano that we bought (and couldn't afford) when Mitra began taking Suzuki lessons. We both agreed to leave the green living room furniture that we acquired at an auction in The Hague. I parted with my aquarium and Nazy jettisoned the coffee and end tables. But she was still looking at my desk.

I lost my favorite desk when we moved from The Hague and I wasn't about to let that happen again. "You know, Nazy," I began. "If we really want to save space, we could get rid of some of your clothes, shoes and hats."

"Are you out of your mind?"

"We've only purchased a container ship, my dear.

"Not a ship, Dan, a container."

I looked the mass of boxes. "S
hip
," I thought. "If I'm going to sacrifice my most favorite furniture, then you should meet me half-way. If we left 1235 pairs of shoes then.."

Naturally, we strive (and always succeed) in an effort to keep the apartment neat during the packing process. That's the only way to avoid losing something. (I remembered this approach on day 3 while looking for the passports.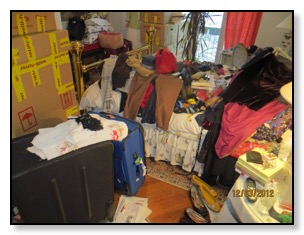 And finally: Switzerland is not a normal country. They're picky about what they buy - especially picky when they looked at our dining room table. (Perhaps Nazy was right.) You can't just drop things at the dump. And the movers said that the container wasn't full (while Nazy was at the hair salon). The short version.. we brought the dining room table. (And all 1235 pairs of shoes.)