Tiger's airport closes on upside down mountain SUV Arrow
It was a
surprising
week: Nazy, Melika, Tiger, Arrow and I went to the Grand Canyon for (appropriately) a
surprise
birthday party for Nazy's sister Shahrzad.


Aside
: Astute readers, recalling that Nazy went to Washington a month ago to "celebrate her sister, Shahrzad's, birthday", may wonder what is going on. After all, how many birthday's can one person have in a single month? Well…. Nazy's trip to Washington was part of an elaborate scheme of disinformation. The Grand
C
a
n
y
o
n
trip was arranged by Layla, Shahrzad's daughter. The destination was a secret as was the fact that all of Nazy's brother and sisters and a cousin would attend. Nazy's Washington appearance added to the deception. We were happy when Melika jumped on board because everyone also wanted to see her and the grand(est)sons.

We were traveling with a two year old and a three month old, so had
I
been consulted about placement of the Grand Canyon, I would have recommended a more easily accessible location…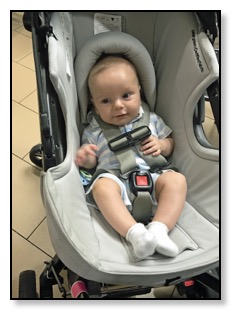 "…
and one that didn't involve airplanes
," I thought as American Airlines confirmed that we had missed our outbound flight. Subsequently, airline counter agents showed us the compassionate kindness that a colony of
fire ants
shows to a nudist doing cartwheels on their nest.

But, we (eventually) arrived in Flagstaff where the Enterprise car rental desk was closed. We found someone at Budget and he offered to help. but…

"There is no car reservation under your name," the clerk stated.

I sighed and confidently pulled out my confirmation number.

"This reservation is for tomorrow," the clerk observed.

"It's almost
tomorrow
now." I replied, looking at the clock (and a scowling wife). "Do you have a large SUV?"

"I'll have one
tomorrow
." the clerk replied. "
You'll need an 18-wheeler
," the clerk thought as he looked at our luggage.

"Dan!" Nazy interjected helpfully. "Why did you rent a car on the wrong day?"
The agent offered to 'clean up' an SUV if we wanted to wait — "about an hour". We demurred and asked him to call a taxi. The airport lights were turned off as we waited — about an hour — for the taxi.

While we were waiting,Tiger played with (a subset of) his cars. Later, Melika took him to the restroom to wash his hands.
"Where does that water in the pipe come from?" Tiger asked

"Ask Dan," Melika replied.

The next morning, we collected the car (by then it
was
tomorrow
). We began our drive to the Grand Canyon.

The drive from Flagstaff gives no clue that something spectacular awaits. The barren landscape is punctuated by trees that appear to have (just barely) survived a large forest fire. However, when you finally make your way to the lodge (we stayed at Maswik), the sights are awe-inspiring.

I'm happy to say that Tiger and Arrow were (mostly) patient and happy during the trip. I explained that the Grand Canyon was "… like an upside down mountain…". Tiger repeated this explanation to everyone, but I'm not convinced that he grasped what I meant. Moreover, he was kind of blasé about the beauty of one of the wonders of the natural world. In point of fact, it seemed that he found the bus ride to Hermit's Rest on the rim to be just as exciting as the Canyon itself.


All of us at the Grand Canyon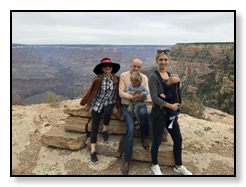 As we were getting settled, Nazy's sister and early arrivals for the surprise event, were hiking. Shahrzad had been surprised when Saphura and Nelson met her at the Phoenix Airport. As they began the drive toward the National Park, Layla announced that they had to return to the airport to…

"Pick up coupons?" Shahrzad asked. "Coupons?" Shahrzad thought.

In fact, they picked up Shahriar and Fay. Then they collectively drove to the Canyon. Layla had told Shahrzad that since 'Nazy had come to the Washington celebration she couldn't make another trip'. However, the next morning, when Shahrzad returned from a morning hike, she saw Nazy, Melika and Arrow. I showed up a few minutes later with Tiger. It was proving to be a rolling thunder surprise.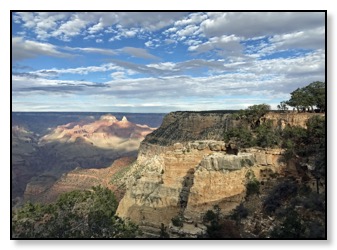 Later, everyone went hiking along the rim.

"When I say 'everyone', Tiger," I explained. "I means you too."

"Carry me." Tiger replied.

"It's not that far," I retorted. "
I hope he can't read the sign
," I thought.

"Carry me." Tiger responded. "
I'm no fool,
" Tiger thought.

Tiger did walk a little, but he also spent a lot of time on my shoulders.

You might wonder why we were walking when the canyon is famous for mules. In fact, Saphura mentioned that she had tried to reserve mules for a trek down to the canyon floor. It was a strange conversation. They asked a million questions:

"I want to reserve several mules for the 28th of October." Saphura began.

"I see," the agent replied. "Does anyone in your party have a heart problem?"

"No."

"Is anyone in your party HIV positive?"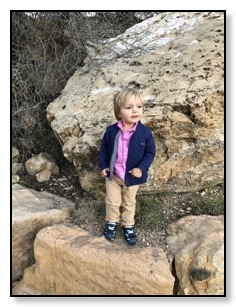 "No."

"Does anyone in your party weigh more than 300 pounds?"

"No."

"Has anyone in your party had internal bleeding recently?"

"No."

"Is anyone in your party afraid of heights?"

"No." Saphura answered — without consulting me.

"Are the people in your party healthy enough for a strenuous, all day, trip?"

"Of course,"

"I see," the agent concluded. "No mules are available for that date. You need to reserve at least a year in advance."

It was a bit cloudy at the beginning, but progressively cleared as the day unfolded. While we were having a wonderful dinner, Ricky and Firozeh arrived — another surprise for Shahrzad. Ricky flew in from Hong Kong, Firozeh from Montreal.

Later, we enjoyed an absolutely awesome stroll under the stars… millions and millions of stars. The Milky Way was bright and visible.

"What's the Milky Way?" Tiger asked when Melika pointed it out.

"Ask Dan," Melika replied.

In addition to the scenery and fun visiting relatives, we had some time for shopping. Melika wanted to..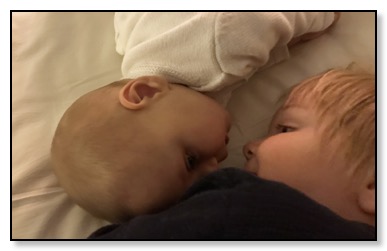 "… get an arrow for Arrow's room," she explained. "We have lots of tigers in Tiger's room and Arrow needs something."

Luckily there were plenty of shops with Native American artifacts. Melika found something that was perfect.

And so, on Halloween, we leave you with Melika, Nazy, Arrow, Tiger and Dan at the Grand Canyon. Will they make it home? Well, yes. Will the journey be smooth? Find out next week.


For last week's letter, click here


More Family at Grand Canyon