Turkish Delights, Bazaar-ing Nights, trouble-free flights
It was the day before our departure for the Middle East. In Zürich, snow was melting. In New York, flood waters were receding, in Ohio Presidents (and contenders) were campaigning and in Beirut, laptops were door-stopping.

A friend, familiar with Darius' aging laptop and fortuitously, also a forensic technology archeologist, had delivered the technically accurate appraisal ("toast") during the summer holiday. Darius, adroitly applying duct tape and voodoo incantations, ignored the analysis and somehow kept the device running for an additional few months. Predictably, it succumbed in Lebanon and...

"I won't get a good deal on a laptop here, Dad." Darius had explained.

"Do you want us to get one in Switzerland and bring it with us?" I had asked. "Tracy found a great deal at Digitec in Zürich and ..."

Aside: Electronics pricing is skewed. A laptop with the power of a workstation and a 17" screen costs less than an iPhone without a contract. This makes no sense whatsoever.

"Let me think about it," Darius replied.

Darius thought until:

"... the last minute, Nazy." I explained. "Darius is the human equivalent of the German language."

"What?"

"He puts off the action until last minute, Germans. the verbs at the end of the sentence, put. Decisions delayed are. Wait! That almost sounds like Yoda."

"Right, you are."

Nazy and I drove to the Industrial quarter. Traffic was horrendous, but we were able to collect the HP laptop and slowly make our way back to the apartment.

At home, Nazy began sorting and selecting in preparation for packing. Naturally, I contributed my time and effort. (I found the passports.)

Incredibly, our Turkish Air flight to our first stop (Istanbul) left at a reasonable time. Nazy asked about the airline.

"Are we going to have to pay for excess baggage?"

"I doubt it," I replied. "but if we were on United, or American or.."

Turkish Air took all of our luggage. Happily! (And cost-free.) They seated us in an exit-row. The flight left exactly on time. They even served a hot lunch (in economy class) with a main course choice. They had Coke Zero (not Diet Coke) and free wine. We arrived as scheduled and following Internet-delivered advice, I purchased our Visas before standing in the queue for passport control. Then:

"But..everything had been going so well," I said to Nazy as we joined a bedraggled group of six million. "They used New York's JFK airport as the model for passport control."

"Not really!" Nazy replied. "The citizens-only section is moving quickly and efficiently."

"At least we won't have to wait for our bags," I accurately replied as we nudged ahead. We found a taxi ("taksi") without any problem and began a long drive into the city. Istanbul is huge. Almost three times as many people (20,000,000) live in Istanbul (and the surrounding area) as live in all of Switzerland. And ..

"All of those 20,000,000 people have gathered on the motorway to welcome our arrival," I noted as we wallowed in a traffic jam.

Our hotel, the Conrad, was ready. We got an upgraded room (courtesy of Hilton Points collected while on assignments with HP). Nazy had a comprehensive discussion with the concierge before our dinner overlooking the Bosporus Bridge that connects Europe and Asia.

We decided to head to the old city on our first day. Nazy wanted to:

"Shop the Grand Bazaar, Dan. 60 Streets, 4000 shops, bargains and.."

"Somehow I'm not surprised. Are you looking for anything in particular?"

"I'm looking for a pair of shoes."

"Shoes? Didn't you bring shoes?"

"I brought these," she said, pointing, "to throw away."

"In my opinion, it is silly to shop in the Grand Bazaar for something you could find in an outlet mall."

"You don't understand anything, Dan." Nazy retorted.

"Can we check out the Blue Mosque first? It is a famous site."

Nazy reluctantly agreed - but we arrived just as they closed the Mosque for morning prayers. We were told to come back at 2:00PM. So, we dashed to the Grand Bazaar - and the shoe emporium - skipping by the carpet stores, the pashmina boutiques, the goldsmiths, silver brokers, the lamp sellers, the leather workers, blacksmiths, spice markets - en route.

Nazy found several pairs of genuine 'Burberry" and "Prada" walking shoes. Unfortunately, the ones that were in her size, weren't the ones that she liked. (And vice versa.) And then..

"This is the one!" Nazy exclaimed.

"You forgot to bargain," I grumbled.

"But I can only find the left shoe in my size. Can you find the right one?" Nazy continued.


The Grand Bazaar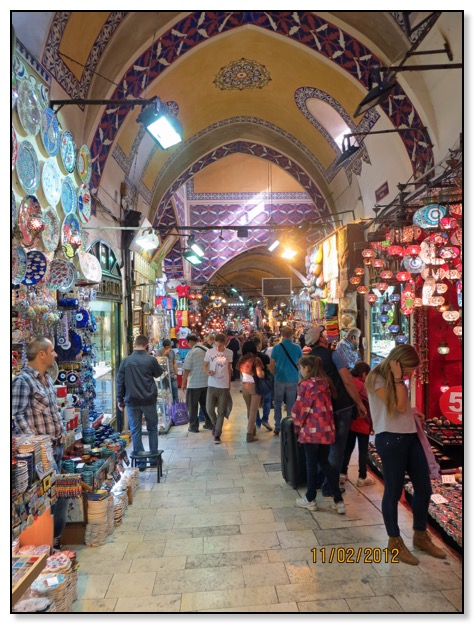 While the shopkeeper searched his inventory, I looked for a Coke Zero store. When I returned, Nazy was crestfallen - and (new) shoeless. I spirited her away - back toward the Blue Mosque. We arrived at two and joined a massive queue. We were two meters from the entry hall when they closed the door for afternoon prayers. We decided to go to the Hagia Sophia - a former Christian Church converted to Mosque and thence to a museum. There was, of course, a huge queue, but we persevered and prevailed. It was a stunning place: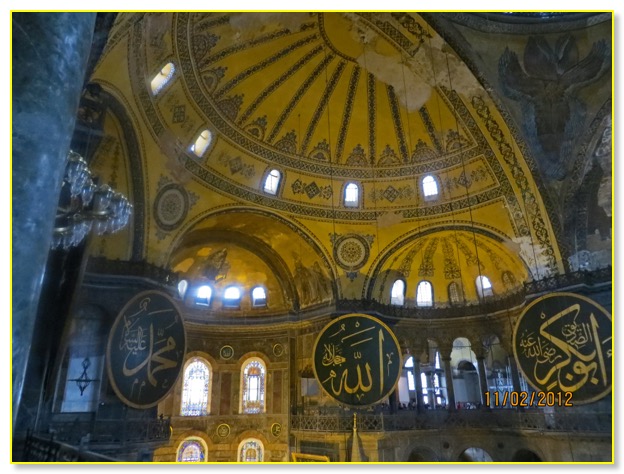 After visiting Sophia, we returned to the (sigh) Blue Mosque for the third time. The lines were long and the rules were strict. Women had to wear a headscarf and everyone had to remove their shoes. We made it inside just before they closed the doors. Interestingly, essentially all the women removed headscarfs upon entering the mosque.

Nazy and I have seen beautiful mosques in Isfahan. The Blue Mosque looks imposing from the outside (but not as beautiful as the ones in Iran.) But, the inside is obscured by thousands of wires holding up chandeliers. It was nice. It was big. It was crowded. And (frankly) a little boring. The outside view is much more wonderful.

When we finished with the mosque, we headed back to the Grand Bazaar. Nazy wanted to see if the shoe salesman had located her right shoe. (He hadn't.) We asked for advice about nearby restaurants. We had a great kabob - noting that food prices in Istanbul were very reasonable. The entire meal cost about ¼ as much as a dinner in Switzerland.

To be continued...