jeans and genes underestimate parking problem negotiation
In last week's letter, I wrote about our 45th anniversary, our first granddaughter, a 9,000 mile trip to Lebanon that began with a flight over the North Pole and a new pair of jeans. The jeans attracted a lot of attention. I explained that Nazy and Melika had assured me that the jeans…

"Do
no
t make your butt look bad."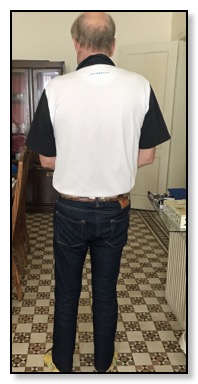 Curious readers, however, wanted to see for themselves: did the jeans deal with the genes adequately? Accordingly, I have included a flattering (?) photo.

Here in Beirut, Nazy and I are not only enjoying our anniversary and our granddaughter, we're having fun with Darius and Christiane in their elegant home in the Clemenceau district of Beirut. Feeling at home, Nazy offered to cook a Persian dinner — which entailed a shopping excursion.

Nazy, excited by the variety and quality of the foodstuffs on offer, was a bit confused by the plethora of choice in (what appeared to be) yoghurt. But she also found French
wine
, Japanese
eggplant
, Persian
pistachios
and ..

"Look at this Nazy," I exclaimed. "American
chocolate
chip cookies."

We had a full cart at checkout.

"$150 dollars." Nazy predicted.

"
Did we really need the broccoli
?" I thought as the cash register went into turbo mode.

"92,800 LL." The clerk exclaimed after scanning the last item.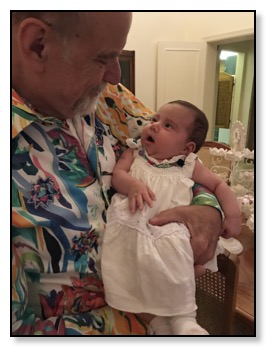 "See!" Nazy said. "It's almost a 100,000 Lebanese Pounds!"

"It's about $60," I replied.

I paused for a moment of quiet reflection.

"
That must have been the very first time Nazy overestimated a final price
," I thought.

"It's not very expensive here." Nazy concluded.

Later that day I was accompanying Darius to Starbucks.

"…. and everything is going to be so much cheaper when we get to Washington State, Dad." Darius predicted.
"Not everything." I mumbled.

Amazingly, Darius was able to conduct a coherent conversation while driving through central Beirut. He squeezed through openings marginally larger than his car, forced his way across six lanes of steady traffic with brazen courage, a few gentle
taps
on the horn (and one not so gentle
blast
) with deft mastery of the gas and brake pedals (more gas than brake).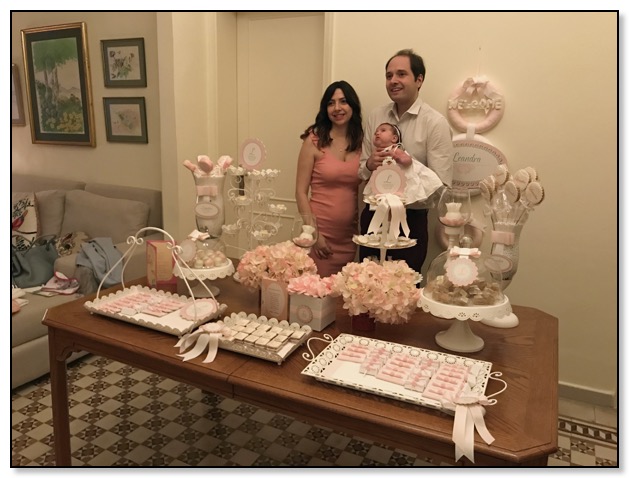 "I may have trouble finding a parking spot at the bank, Dad."

"Hmm," I replied. "Why don't you just park in the middle of the street? Or take a taxi?"

"Dad, how about.." Dar looked at me and pointed to the steering wheel.

"Do not ask me to drive this car around the block, Dar." I replied.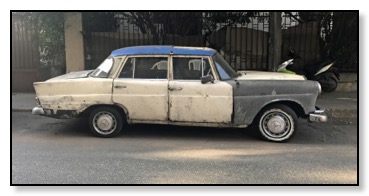 "I'm sure you'll get the hang of it."

"Find a parking place." I commanded. "
Hang of it
?" I thought as my heart rate and blood pressure skyrocketed. "
Will that happen before or after I drive into the Mediterranean
?"

Remarkably, Darius found a parking spot directly in front of the bank. And then, after his visit, we headed toward his home where ..

"No free spot, Dad. We'll have to put money in the parking meter."

"You're going to pay to park outside your own house?" I replied.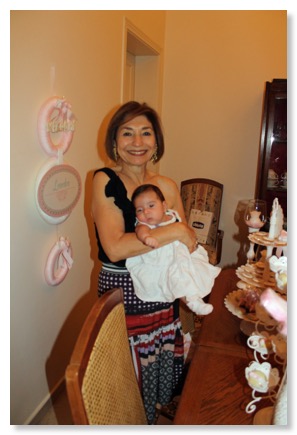 "I'll get a ticket if I don't. I get a ticket once a week. It's a pain."

"A ticket? How much?"

"About $7.50. But I have go to the ministry to clear it."

"Dar!" I replied. "Are you telling me that a government that can't provide 24 hour a day electricity is able to reliably give you a parking ticket?"

"
Extremely
reliably, Dad."

While we were here in Beirut, the Lebanese Prime Minister, Saad Hariri, was in Washington speaking with the
character
currently occupying the White House (when he's not on his golf course). The joint news conference was enlightening.

"Enlightening, Dad?" Darius asked. "It doesn't appear that your
Presid
.."

"Stop right there, Darius. He's not mine."

"When they asked him about Hezbolla, a really important group here in Lebanon, he had no idea what they were talking about — he said 'my generals are studying the situation'."

"He's consistent, Dar. His total ignorance spans foreign as well as domestic issues…"

"And Harriri's Arabic answers made it clear that he didn't think that his
counterpart
understood what was going on."

"As I said, Darius, our '
President
' has the rare combination of total ignorance, comprehensive stupidity and awe-inspiring ineptitude combined with total (misplaced) confidence."

Later, Nazy and were looking at an antique desk in a craft shop. We had begun initial discussions with a non-English speaking clerk. He called his boss and we hoped to make progress, but Arabic discussions (which Nazy understood) made it clear that if we wanted success, we'd have to rely on a local. We're recruiting Darius and Christiane.

Off to the mountains of Lebanon now, more next week.


The Beirut Family Martin