The Tsarskoe Selo also featured the famous "Amber Room", an entire room with walls and carvings of Amber. The panels of the original room, constructed in the 18th century, were carted off by the retreating German Army toward the end of "The Great Patriotic War". They have never been found. The room was reconstructed recently from photographs, drawings and memory. (In fact, the entire complex was badly damaged during the war; almost everything is a recreation.)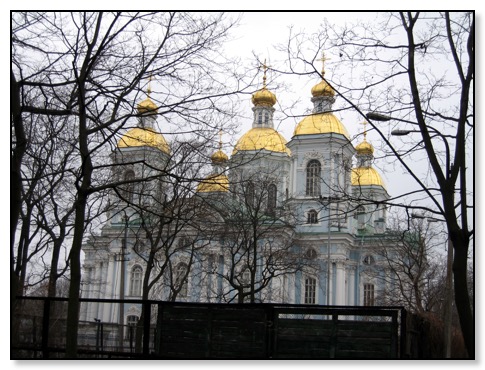 After five days, we had to head back to Zürich. Horror stories about diligent Swiss customs agents concerned Nazy, but we breezed through the inspection process and made it home with no problem and no delay.

The trip was a great experience. St. Petersburg is a dynamic city that has made wonderful progress since 1991. Most people, especially the younger ones, are very happy with the changes that have taken place. And, although there is not quite as much freedom as in 1991, people seem confident and pleased. The guide was particularly happy that the communal apartments, an arrangement where three families shared one apartment – one kitchen and one bathroom – had been replaced with individual apartments. And, to my eye, the city itself looked very much like a typical Western European city.