Hot Humid and Steep
(continued)


Deciding (reluctantly on Nazy's part) to bypass the local designer outlet, we drove to Torino (Turin) for lunch. Because we were in Italy, I ordered a pizza. Predictably, Nazy ordered a large salad. Each of the meals came with the choice of a side dish – salad, soup or dessert. Prudence dictated my selection of a side salad. I assumed that Nazy would order the dessert. Confounding my assumption, however, she ordered a side salad to go with her main course salad.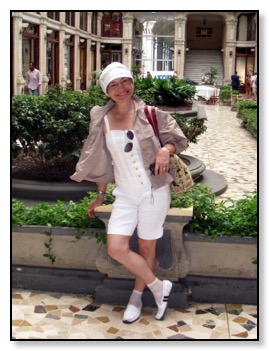 NOTE WHERE NAZY IS WEARING HER GLASSES

Rain began to fall as we walked through the city. Nazy talked us into an Italian language tour of the Royal Palace. I maintained a tight hold to my glasses. We made it back to the car before the storm and drove to Ivera for dinner on the Lake. The hotel recommended a restaurant appropriately named "
El
Cigno". (We were celebrating our anniversary on this holiday; the first gift that I gave Nazy was a blown glass swan that I bought in Underground Atlanta.)

Nazy ordered 'the local cuisine' (fish) and a large salad. Fortuitously we had decided to eat under the awning – a cloudburst accompanied by high winds punctuated our meal. The wind dislodged a plethora of dead bugs from the awning and delivered them through a microscopic hole directly onto..

"Yuck!" Nazy exclaimed as a cloud of bug carcasses landed on our table. We relocated – and took long showers when we got back to the hotel.

The next day we drove to Monterosa al Mare, one of five towns that make up Cinque Terre on the Italian Rivera. Once again
Claudia
came through – directing us around a 12 mile queue near Genoa. Our room in the Hotel Porto was a bit smaller than the one in Ivera, but we had a wonderful view of the
Mediterranean Sea
. We had a nice dinner at the best restaurant. Nazy ordered 'the local cuisine' (fish). It was impossible to find a green
salad
, but Nazy made due with a tomato and mozzarella dish.

Unlike me, Nazy had prepared for the trip by researching the area. She noted that her book of "1000 things to do before you die" waxed eloquent about the walk along the coast to visit each of the five
cities
, eh, towns, in Cinque Terre. Each had begun as a fishing community with its own character.

"The towns," Nazy said, "feature colourful houses perched on the sides of steep cliffs."

The word 'steep' should have gotten my attention. The next morning, armed with a small map, we confidently strode from hotel, walking south. We were greeted by a set of 342
narrow
steps (all going up) as soon as we left the hotel grounds. The path continued to wind upward with a mixture of steps and narrow 'walkway' precariously perched along the mountain.

"
I will not be the first to suggest that we stop and rest
," I thought.

The climb continued. After what seemed like the 32,342
nd
s
t
e
p
, I began to reconsider my options. Nazy, buff and prepared, marched onward and upward, accelerating as she went.

"Why don't we stop and admire the view?" I asked. "
Before I expire
," I thought.

"Are you getting tired, Dan?" Nazy asked.

"Tired? Me? The view is spectacular," I replied. "
But it is hard to enjoy because I'm wheezing, my glasses are fogged and my legs feel like limp spaghetti.
" I thought.
We (finally) paused just before the path started down toward Ver
naz
za where we had lunch. Nazy ordered the 'local cuisine' – i.e. fish and a tomato/mozzarella salad. She also befriended fellow tourists from Sweden.

"Sven says that the path to Cornigla, the next town, is long and steep, Dan."

"Well, if you're not up to it," I began. "
Please, God
," I thought. "
Let her see the light
."

"But my book says that the hike is a '
must
'.."

"A '
must
', my dear?" I replied. "
There '
must
' be a mistake
," I thought.

"We can ask more people," Nazy suggested. Simultaneously, I began to scan the crowd for people who looked exhausted.


Everybody
that had walked between Cornigla and Vernazza recommended the train. Amazingly,
Nazy
suggested that we take the train. I "reluctantly" agreed. It was an excellent decision. Cornigla, the smallest of the towns, is also the most boring. Getting "there" after a two hour hike would have been disappointing. Luckily the final two stops (Manarola and Riomaggopre) were relatively easy and flat walks away.

The views from the trail were spectacular and the cities were colourful and fun: